Things to See & Do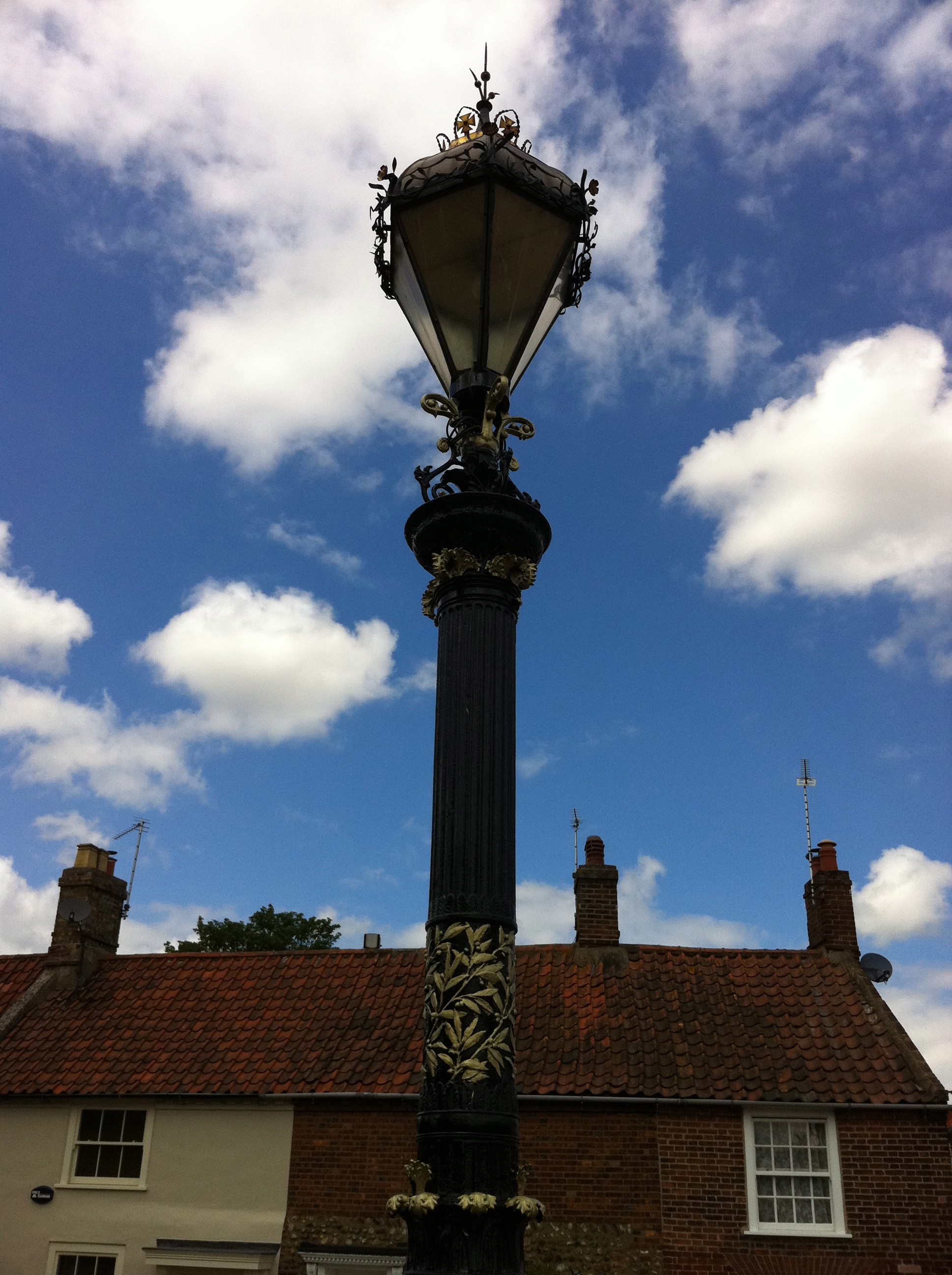 Holt Street Lamp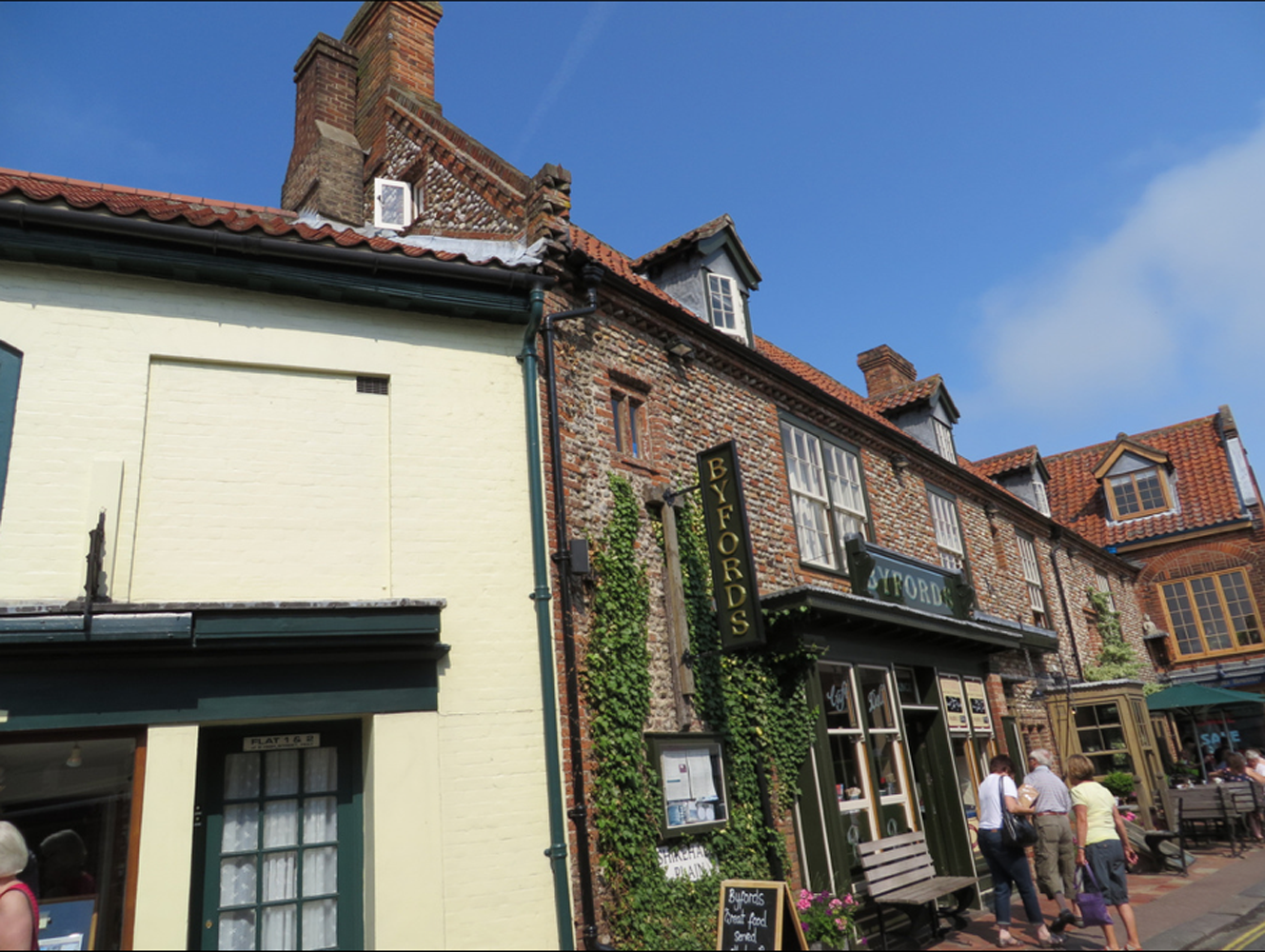 Byfords Cafe and Restaurant in Holt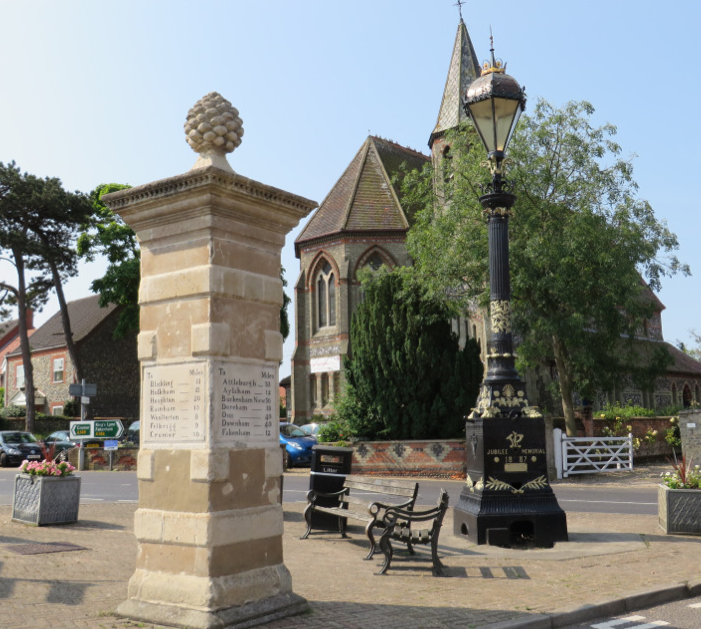 Pilar outside Methodist church in Holt
8 Carpenters Cottages is conveniently located for visiting a choice of sandy beaches, coastal paths, salt marsh RSPB nature and bird reserves. Sheringham, 7 miles, with sandy beach, resort facilities, swimming pool, golf and NNR steam railway. You can take a short walk of about 20 minutes from 8 Carpenters Cottages and visit the North Norfolk Railway Poppy Line which runs a steam train from Sheringham to Holt.
Green Spaces near Holt within walking distance
Spout Hills/Spout Common 5 minute walk from the cottage.
Spout Hills is just yards off Georgian Holt's High Street, is a special place of streams, ponds, marsh orchids and mint. Comprising of 14 acres of registered common land, the area consists of varying habitats and a spring which sprouts out of a gravel hill.

HOLT Country Park is about a 10 minute walk from the cottage
Holt Country Park is situated on the edge of the Norfolk Coast Area of Outstanding Natural Beauty, is a Green Flag award winner. When you walk in to the tranquil woodland, dominated with Scots pines and native broadleaves, it's easy to understand why.
With the change in seasons come changes in the wonderful displays of flowers that you can find, from orchids in the summer to snowdrops in the winter. Holt Country Park is home to many varieties of butterflies who share their airspace with dragonflies and damselflies. The rich ground flora supports an abundant display of wildlife including goldcrests, greater spotted woodpeckers and deer.
Sheringham Park is 4 miles from the cottage
Landscape park and woodland garden with miles of stunning coastal viewsWander through Sheringham Park and you'll discover why it became the personal favourite of its designer, Humphry Repton. Visit the Repton exhibition to see the story of his 1812 design during a turbulent period of history.
Famous for its vast collection of rhododendrons and azaleas, the last owner, Tom Upcher, would hold rhododendron champagne parties in the 1950s to show them off. Ladies would arrive in their fine gowns, some wearing Wellington boots to walk down the main carriageway, sipping champagne and admiring the colours.
Today, you can climb to the top of the towers to experience breath taking views of this beautiful landscape, the North Norfolk coast and maybe a steam train passing through. Spend a day here exploring 1000 acres of varying habitat including woodland, parkland and cliff top. Look out for wildlife, 3 species of deer can be seen alongside a wide variety of birds and butterflies. You will need to book at the moment 01263820550
Holt makes a wonderful location for Wildlife and Bird Watchers as Blakeney National Nature Reserve (5 miles). Blakeney Point, within Blakeney National Nature Reserve, is a four-mile-long sand and shingle spit. Sand dunes have formed over hundreds of years on the shingle ridge and form a rare habitat valuable for unusual plants, insects, BIRDS and SEALS.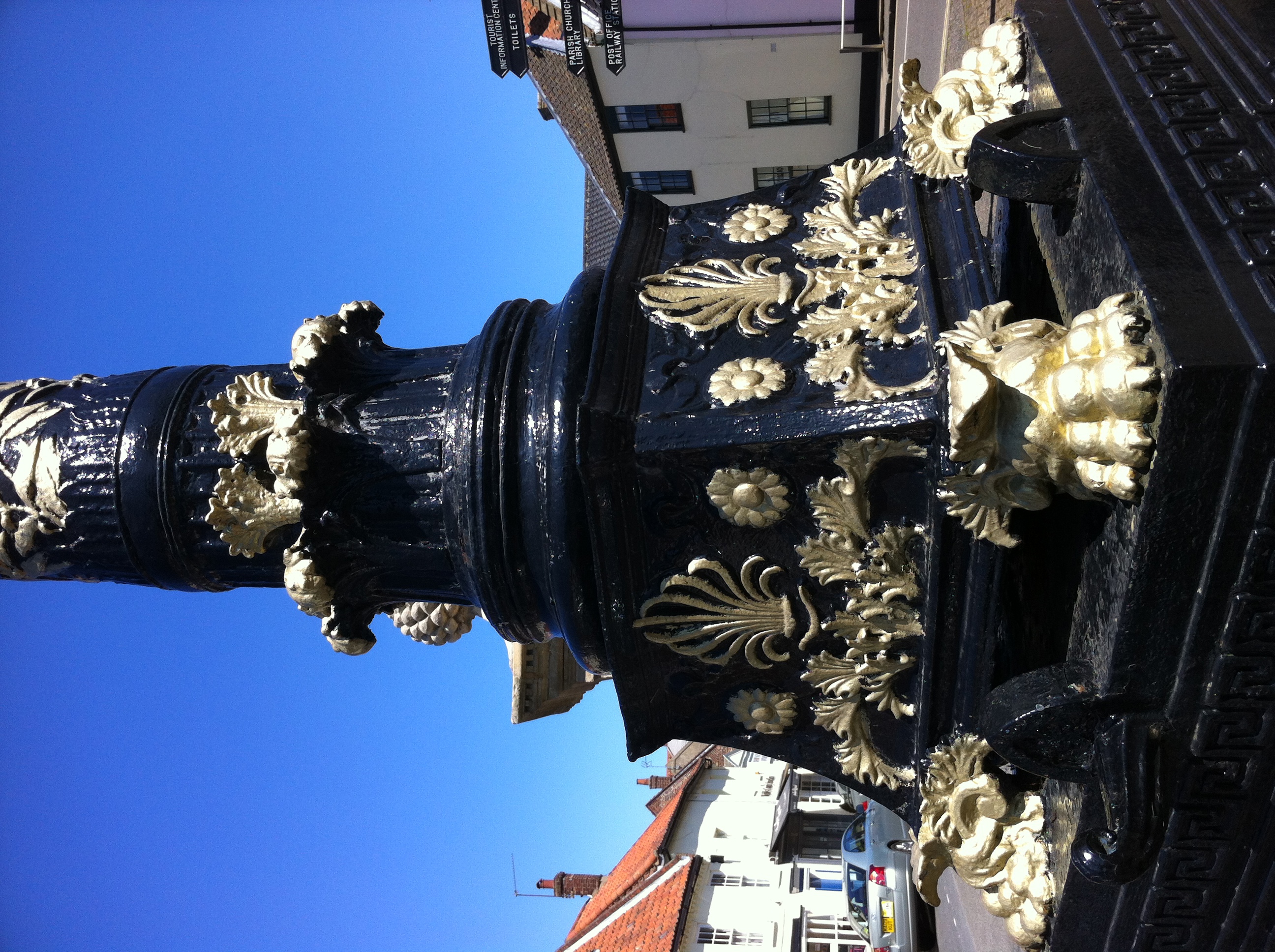 Ornate street lamp in Holt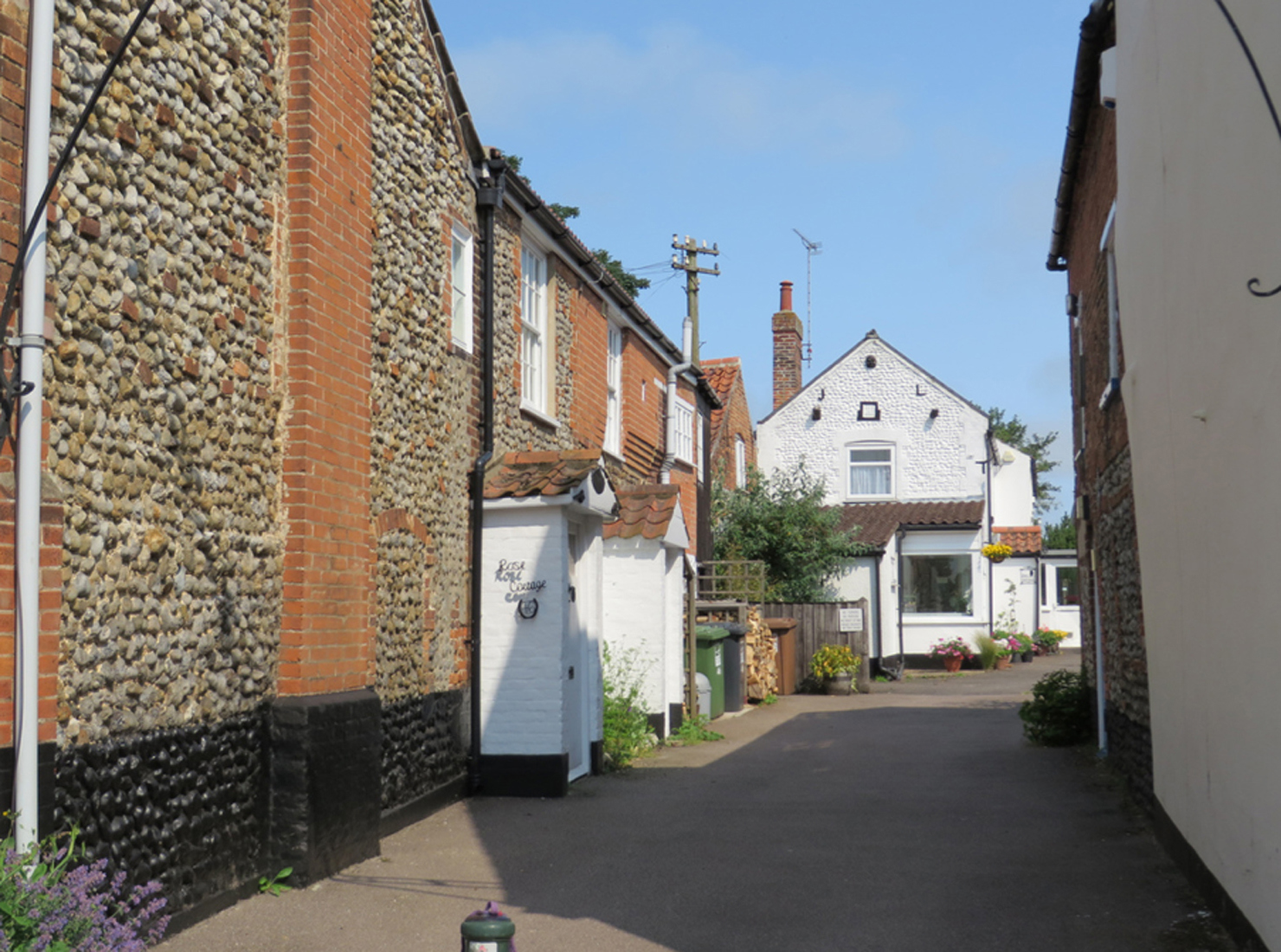 Holt High Street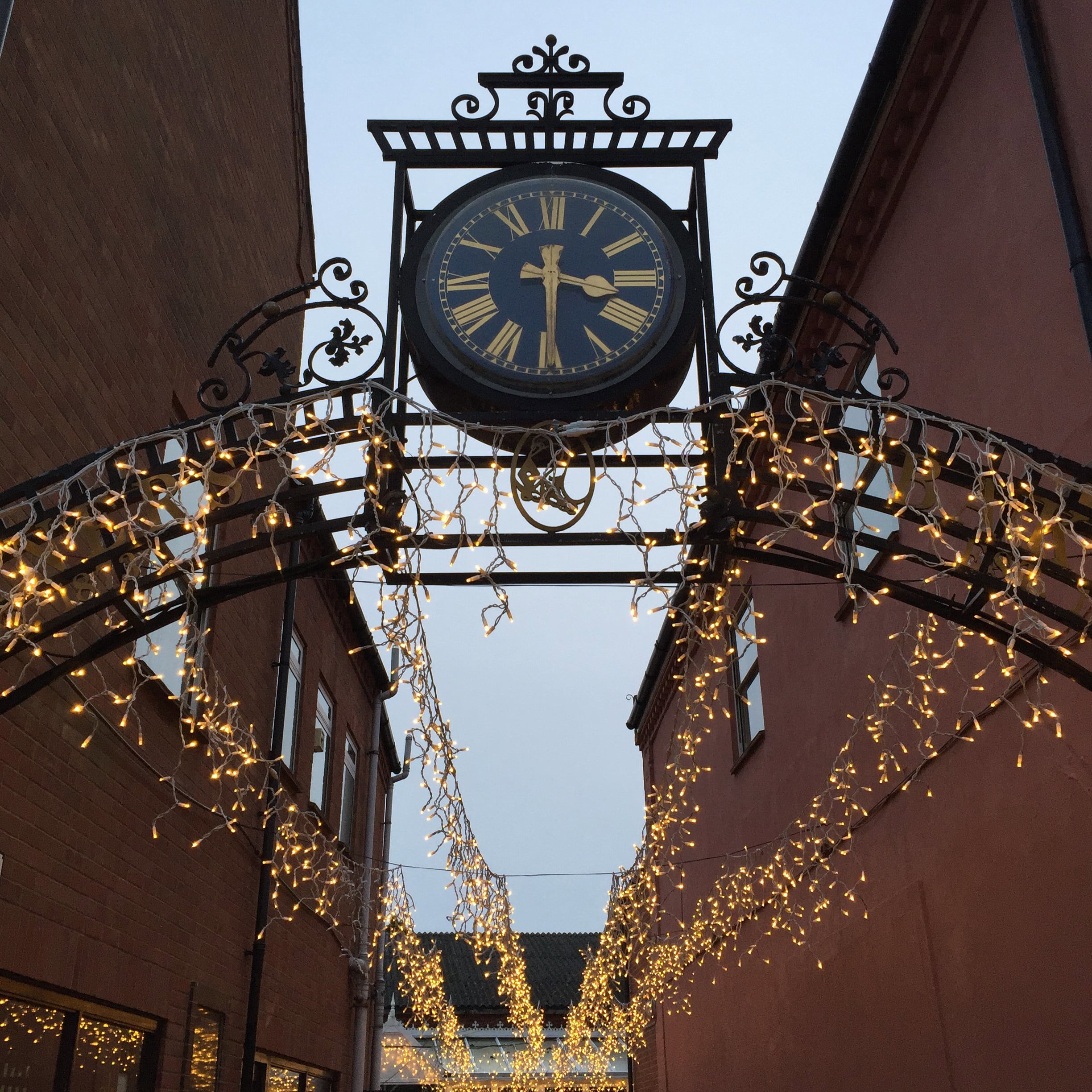 Holt Christmas lights in November
There are stunning beaches – my favourites are Brancaster a wild open beach with great pub The White Horse... or Holkham Beach which is one of the most unspoilt and beautiful stretches of sand in England.
I suggest you look through the Visitors Book at no.8 which has lots of comments from guests of where to go and what to do. The pub and steakhouse Kings Head Holt is good and very close on foot. The nearest coffee shops are 2 mins away, is Barn coffee shop in Appleyard. Black Apollo a tiny Coffee shop at no. 24 High Street serves delicious coffee, just down from the Kings Head pub. You may want to spoil yourselves and have Breakfast out at Byfords Cafe and Restaurant which is a 2 min walk in the town centre.

Delicious fresh fish and chips, cooked to order at Alberts Fishbar, 22 Albert Street, Holt. Ring to check they are frying on 01263 712955.
The Feathers Hotel in the Market Place has a fabulous Sunday Lunch and themed evenings for example on a Tuesday may be a 'Steak and Wine special'

Holt Festival is held the last week in July. A wonderful celebration of the arts.
Holt 1940s Weekend usually runs mid September. Well worth joining in as everyone dresses up and the feeling of the town and surrounding areas change and clocks go back in time to the 40s. To give you a flavour of what happens, it it non-stop FUN..... At Weybourne station, volunteers will be serving up wartime rations including spam sandwiches from the Naafi tearooms, with a 'cup of char' on offer at the Institute Tearooms at Holt station. Trains will be shuttling between Sheringham and Holt approximately every 20 minutes throughout the weekend and there will also be entertainment on Saturday evening.

Holt Christmas Lights are turned on in November each year. Holt is lit up and framed by thousands of tiny white lights outlining the gables, gutters and roofs of buildings throughout Holt including shop fronts, windows and the real Christmas trees. The two churches Holt Methodist Church and St Andrew the Apostle Church at either end of the town take on an architectural delight as the spires are outlined in lights. This is a photographer's paradise for sure.

Thursford Christmas Spectacular has entertained more than 6 million visitors of all ages from across the globe since opening its first Christmas Eve performance over 40 years ago, becoming one of Europe's biggest seasonal shows. The award-winning production usually runs from early November until a few days before Christmas. There is also a Steam Engine Museum at Thursford and Santa's Magical Journey.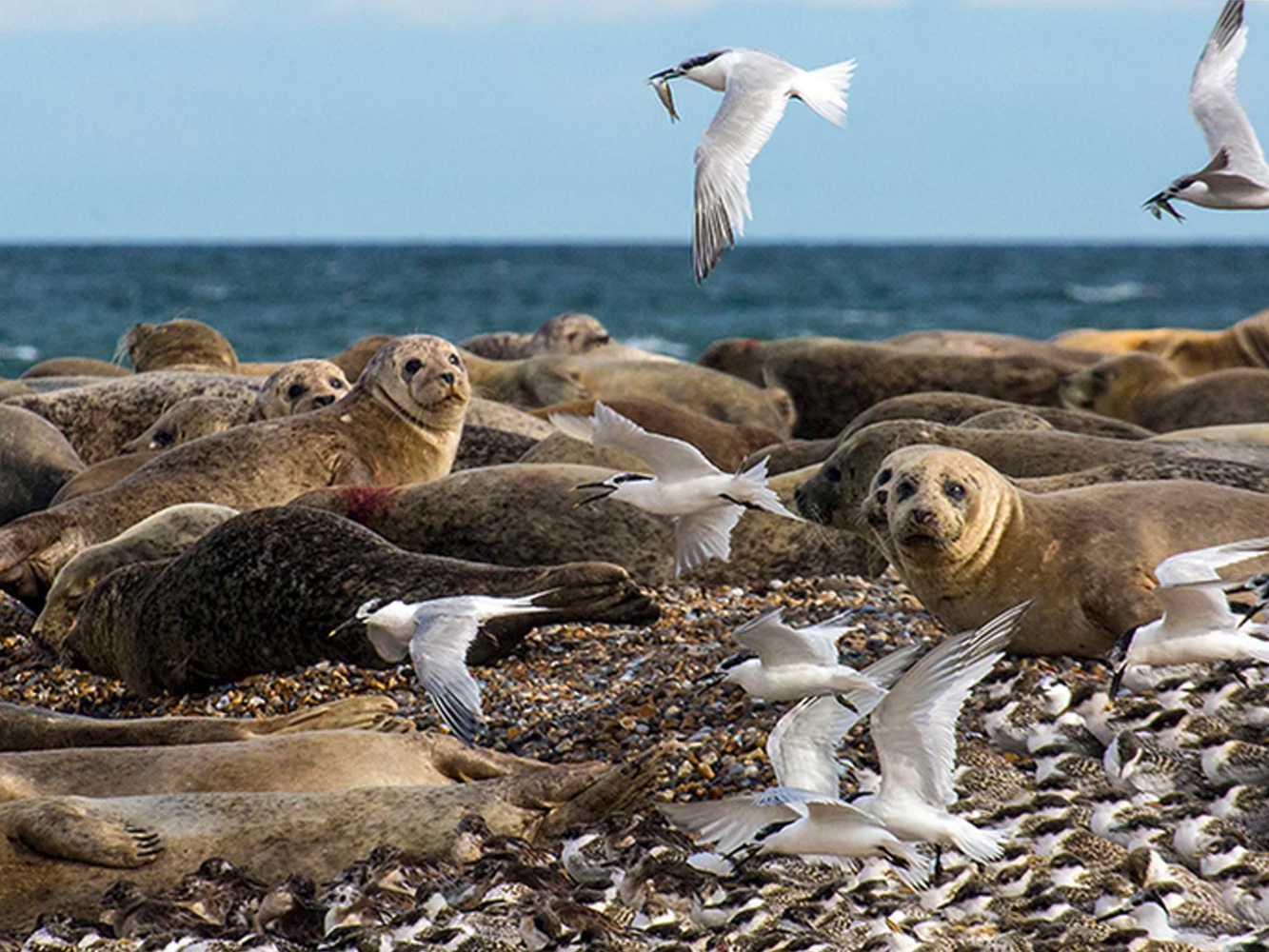 Seals at Blakeney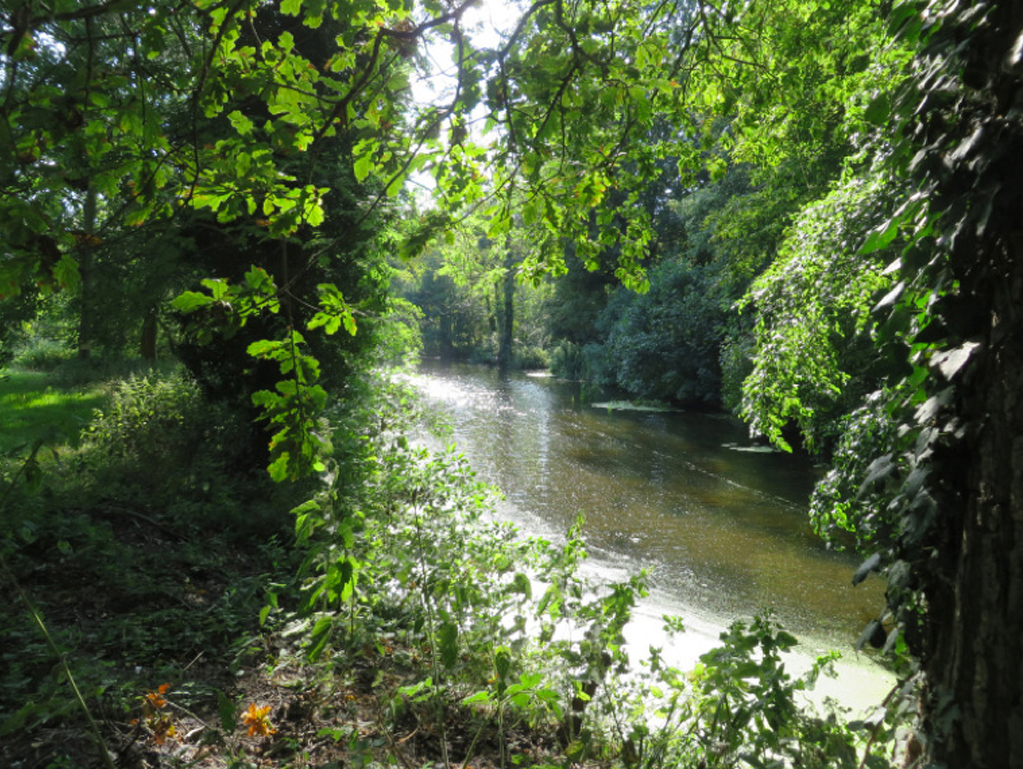 Bayfield Estate
Blakeney Hotel
On the way to Blakeney the Wiveton Bell is lovely. In Morston The Anchor is great – as you enter turn right into the bar down a few steps - busy and small rooms that full of character and good food.
In Morston there are also boat trips to see the seals that can be arranged from the pub or Morston Quay. Beans Boats offer daily boat trips to see the SEALS & BIRDS in their natural environment at Blakeney Point.
Seals at Blakeney
There are both common & grey seals at Blakeney, usually numbering around 500. Common seals drop their pups between June and August, and the greys give birth later in the year between November and January.
There are boat trips (Usually from April - October) to see the seals; the trips last for about 1 hour. Location: Blakeney National Nature Reserve is situated mid-way between the towns of Wells-next-the-sea and Sheringham.

Blakeney National Nature Reserve
One of the largest expanses of undeveloped coastal habitats of its type in Europe, Blakeney National Nature Reserve extends to 1,097 hectares, almost all of which is within the ownership of the National Trust. It includes Blakeney Point, Blakeney Freshes, Morston and Stiffkey Marshes and supports a wide range of coastal plant communities with many nationally important species.
Blakeney Point itself is a 3 mile long sand and shingle spit, noted for its colonies of breeding terns and migrant birds passing through. Both common and grey seals can also be seen. An information centre at Morston Quay provides further details on the area.
Highlights: Twite, snow bunting and shore larks, tern colonies with little, common, sandwich and arctic terns, ringed plover, oystercatcher, shelduck, brent geese, common and grey seals.

If you are feeling like splashing out for a very special one-off occasion the *Michelin star rated Hotel and Restaurant Morston Hall is nearby.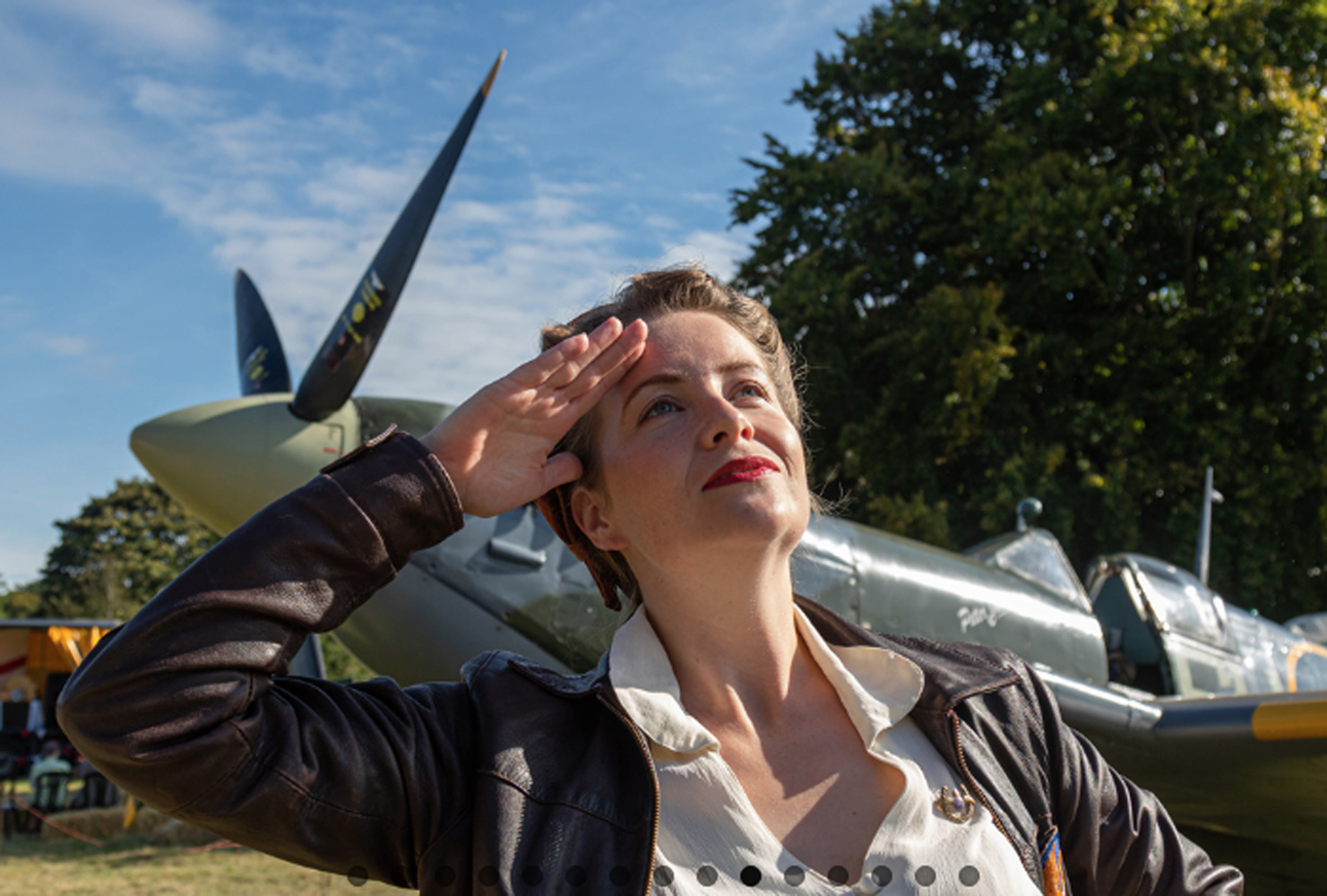 Holt 1940's weekend in September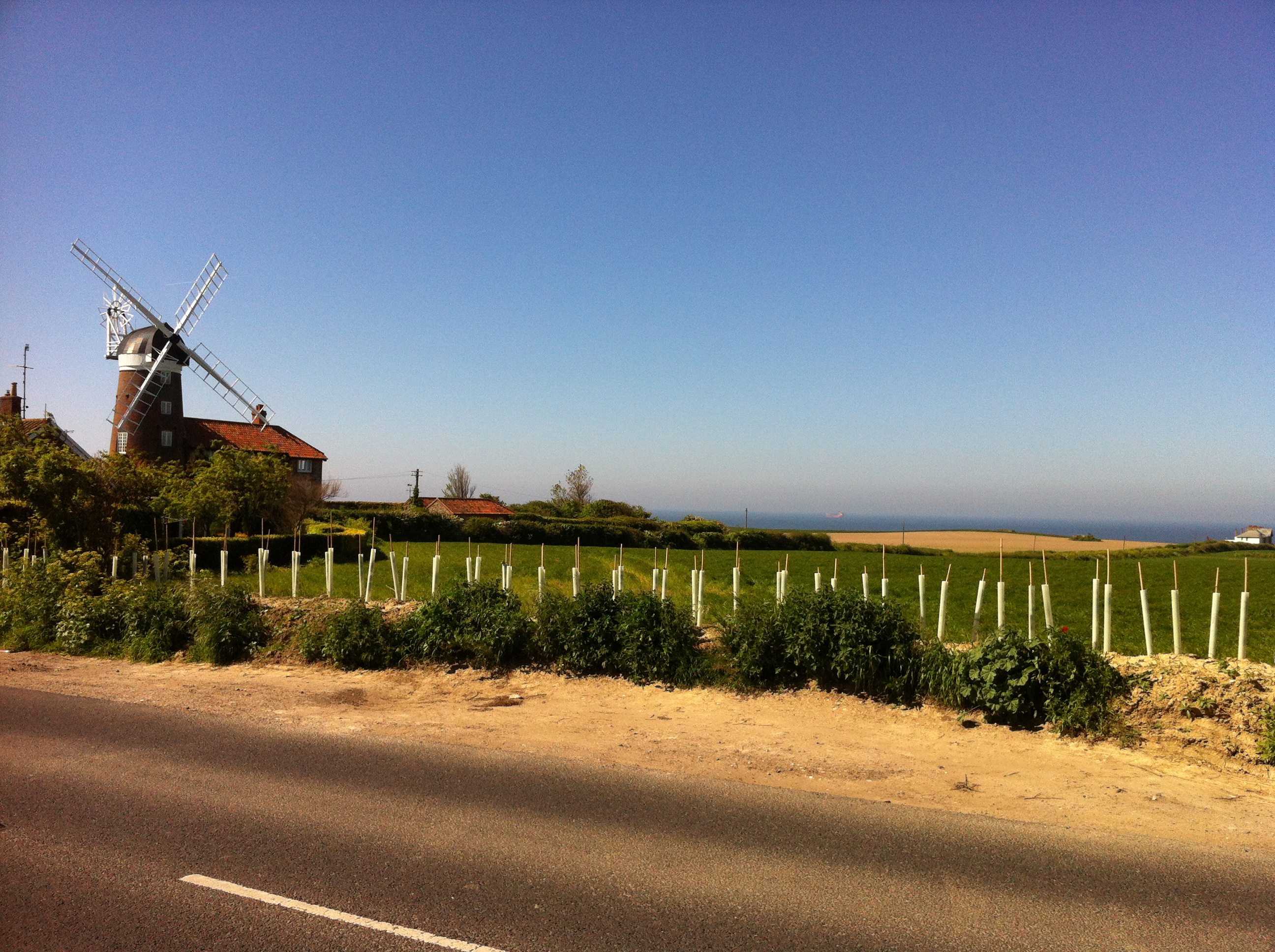 Cley windmill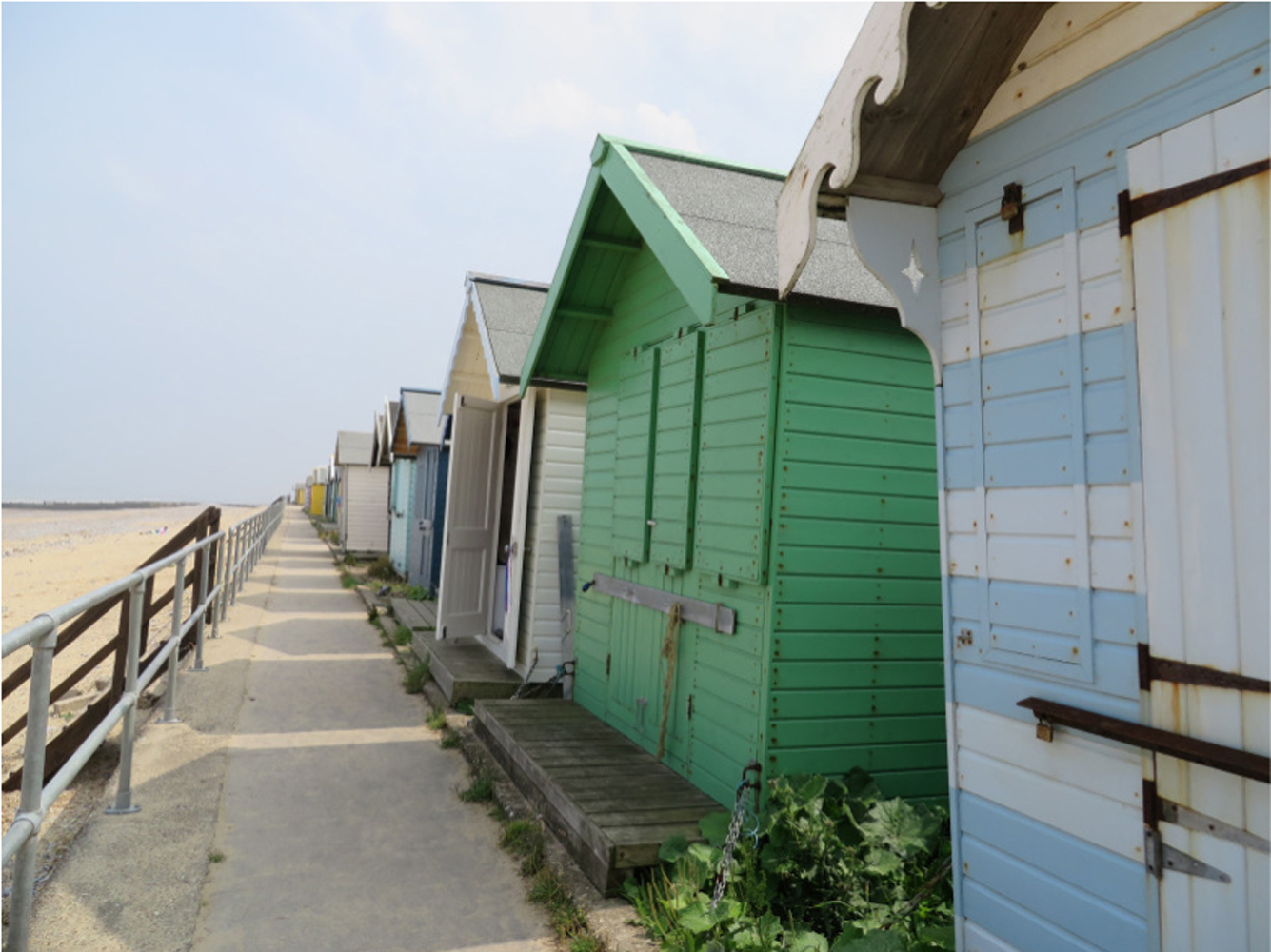 Beach huts
National Trust places to visit in Norfolk.
Sheringham Park (4 miles away)
Blakeney National Nature Reserve (5 miles)
West Runton and Beeston Regis (7 miles)
Felbrigg Hall, Gardens & Estate (9 miles)
Blickling Estate (10 Miles)
Oxburgh Hall (35 miles)
Horsey Windpump (34 miles)
Holkham Hall (15 miles),
Sandringham Estate (29 miles)

Lovely at all times of year there is always something to do in North Norfolk:
How about ....
Crabbing at Blakeney
Eating Fresh Crabs at Cookies Crab Shop, Salthouse
Birdwatching at Cley Marshes
, Breakfast at Byfords Café and Restaurant, Holt.
Visit the harbour at Wells on Sea with colourful beach huts

A few local Pubs:
King's Head, Holt and Steak House a 2 min walk tel. 01263 712543
King's Head, Letheringsett Hill, Holt NR25 7AR tel. 01263 712691
The Hunny Bell, The Hunworth Bell, The Green, Hunworth, Holt NR24 2AA tel. 01263 712300
The Pigs, Norwich Rd, Edgefield, NR24 2RL tel. 01263 587634